I am so excited about our upcoming beach trip... Even though I detest the beach (: I have started monogramming towels for my children, friend, her boys, an the TWO babysitters that will accompany us. I am starting to feel a bit like a rock star...nannies, entourage. (; hehehe. I am so glad that I agreed to this trip- I can't wait for a week with a full time babysitter. I am getting giddy just thinking about it! Nine days and counting until we leave for the island and I have nine days to finish towels for eight people! Two are done, one is going as I type.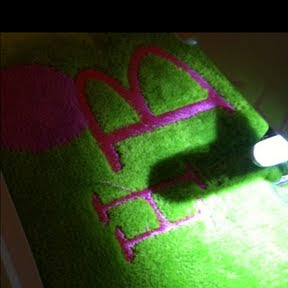 I am in <3 with this stacked monogram. I <3 it in a BIG way. (; I tried to start sewing last week, but for some unknown reason my machine didn't want to cooperate. It decided to sew all the letters on top if each other! Madness! If anyone knows the reason for that, please enlighten this fool... I still have yet to find my seam ripper :(
Pics of those finished...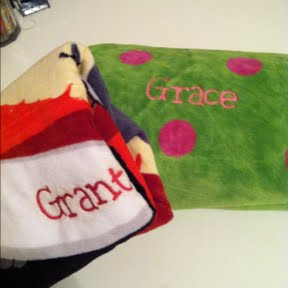 Only five more to go...
I found an AMAZING IPHONE APP... (well two actually) but my current <3 is called craft gawker. It shows DIY projects from blogs all over the country. It has the ability to <3 your favorites AND view the actual blog post to find out how it was created! So my new blog<3: prudentbaby.com.
Night all! (;
- Posted using BlogPress from my iPhone