Yay! New resources!! I found a great new
blog
- AND found a link to a freebie on tpt!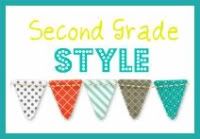 So today was .... interesting.... ? :) I guess that is the best way to describe it anyway. We made some great solid shapes using superteacher.com. I love that my kiddos can do some hands on with these - We colored the faces yellow, edges green, and vertices blue. (Since they meet, they get darker....) Here is a link to the
cube
, but there are a ton of
other shapes
too...
Warning - rectangular prism did not line up correctly and I had to do some last minute, freehand cutting. :) But the kids still <3 ed them and wanted to make more - so we did. Can't have a better learning experience than that!