Hehe. Love the beastie boys! But. I really was crafty this week! I repurposed two tables from goodwill. One was a coffee table and the other was a tv tray! I have been reading a bunch of teacher blogs, inspired apple, schroder's second grade,... Anyway, I wanted to participate in a linky party but didn't have pictures of any crafty school things that I have done. SO... I got crafty!
Hobby lobby had a 40% off coupon...I was browsing hl without any ideas....saw some magnetic paint...saw some chalkboard paint... BAM... idea! Find some cheap tables and redo them to use them in the spelling station!
Magnetic paint will allow the kids to still use the letter magnets for spelling centers, and the chalkboard topper will allow them to use sidewalk chalk to write their words too! YAY!
Here is how they started.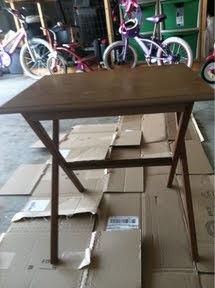 Not bad for $5.00, but they will not say this way.
After a little magnetic paint and some chalkboard paint......
Tada!
Turns out the magnetic paint wasn't so magnetic..., oh well. I still have a cute chalkboard!
- Posted using BlogPress from my iPhone